SIIJLA
---
FATIMA ISLAMIC SOCIETY
---
IECOC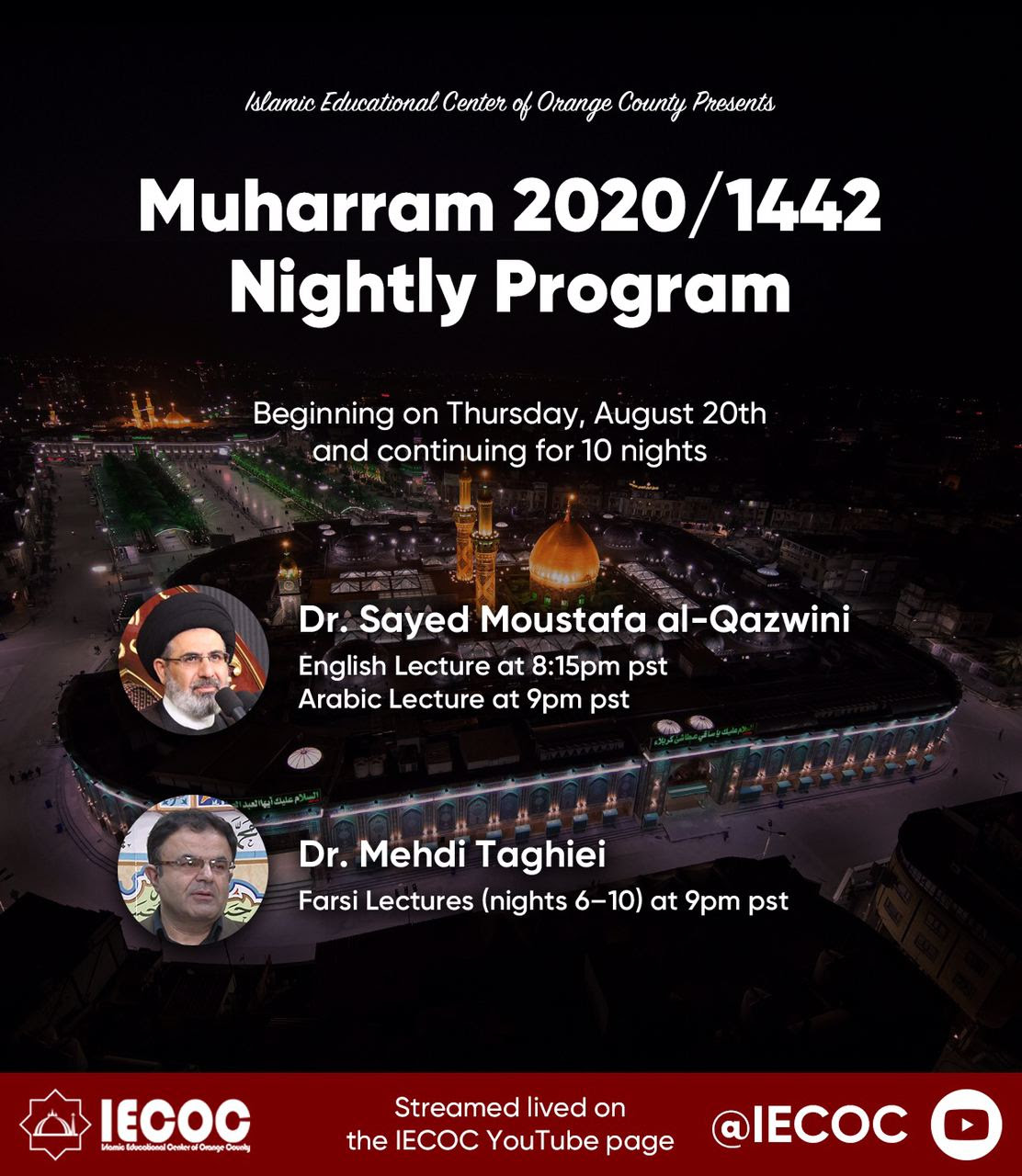 ---
ALWALAYAH
---
BARGAH-E-ABUL FAZLIL ABBAS (AS)
---
MASJID AL-RASOOL

/

YASEEN/HEJRAT FOUNDATION
JAFARIA ISLAMIC SOCIETY
---
ZAINABIA ISLAMIC SOCIETY
AUG. 20TH – AUG. 31ST
SPEAKER: MAULANA DR. QUDSI RIZVI
8:30 PM PST – URD
---
DAR-E-ZAHRA WOMEN FOUNDATION
AUG. 20TH – AUG. 31ST
1:30PM PST – URDU
STREAM PASSWORD: 631752
---
MASJID AL-ZAHRA
AUG 20 – SEPT 5
7:30 PM PST – FARSI
FATEMIYYA EDUCATION CENTER OF OC
8:30 PM – FARSI
---
AHLUL-BEYT MOSQUE
---
ISLAMIC CULTURAL CENTER OF FRESNO
8/24 – 8/29
7:00 PM
Zoom password: ashura
---
IMAMIA EDUCATION CENTER
More information to be announced soon
SABA ISLAMIC CENTER
AL-MAHDI CENTER BAKERSFIELD
Starting 8/20/20 at 8:30 pm – English/Urdu
---
OTHER ONLINE PROGRAMS
---
---
---
---
---
STAND WITH DIGNITY – INTERFAITH AND INTRAFAITH EDUCATION ABOUT KARBALA
Imam Hussein -The Grandson of the Prophet
An Icon of Universal Social Justice
Muharram Series – Aug 22 to Aug 27 – From 7EST to. 8 EST
Presented by www.standwithdignity.org
In the year 680, Imam Hussain(as) declared: Indeed, I am leaving Madinah to reform (ISLAH) the ummah of my grandfather. What led to this and what lessons can be learned from the Tragedy of Karbala? In this 6-part series aimed at Interfaith and Intra-Faith audiences, Dr Hasnain Walji will layout the context in which events in Karbala played out resulting in an enduring social justice movement.
Session 1: A Brief Historical review of the Tragedy of Karbala
Session 2: Imam Hussein's Sacrifice to Preserve the Prophetic Mission
Session 3: More than Political battle – A Stand Against Tyranny and Oppression
Session 4: The Critical Role of Women in Karbala
Session 5: Ashura – An Enduring Social Justice Movement
Session 6: The Tragedy of Karbala belongs to all of Humanity.